20 PROJECTS TO WATCH
The Courier's picks for the projects set to reshape the region in 2022
As supply chain issues, a historic labor crunch and the pandemic throw up roadblocks in the face of progress, developers and businesses remain committed to investing in Greater Cincinnati.
Buoyed by that spirit of determination, the Business Courier identified dozens of projects that will reshape our region over time. For our annual Projects to Watch, we selected sites based not by size or dollar amount, but by the level of change they will bring to the Tri-State.
Of those, we highlighted five that could yield the greatest impact in 2022 and beyond. We believe these five keynote projects, spread out on both sides of the Ohio River, are indicative of the level of development taking place in all corners of Greater Cincinnati.
(1) The Textile Building
CORRIE SCHAFFELD | CBC
The western end of Fourth Street in downtown Cincinnati can expect another shot in the arm once the Textile Building is redeveloped. The project is set to include 282 market-rate class A apartments as well as first-floor commercial space.
The $69 million development by Washington, D.C.-based Bernstein Cos. is currently under construction and will eventually add more residents to Fourth Street, traditionally a business and retail corridor. The conversion project is expected to be another key component of downtown's evolution into a community where people live, as opposed to just working, shopping and going to events.
The Textile Building will include rooftop amenities, a gym and a co-working space. The apartment sizes will range from studios to three bedrooms, with mostly one- and two-bedroom units.
"This building is kind of a strike zone for Bernstein. We look at these historic conversion opportunities, former offices, and we have the know-how and expertise to convert them to class A family assets," said Phil Aftuck, Bernstein's director for real estate investments.
HGC Construction is the general contractor, with Strada serving as the architect. The project could be complete by the first quarter of 2023. In addition, Bernstein plans to expand and pursue other opportunities in the region.
– Chris Wetterich
(2) Union Promenade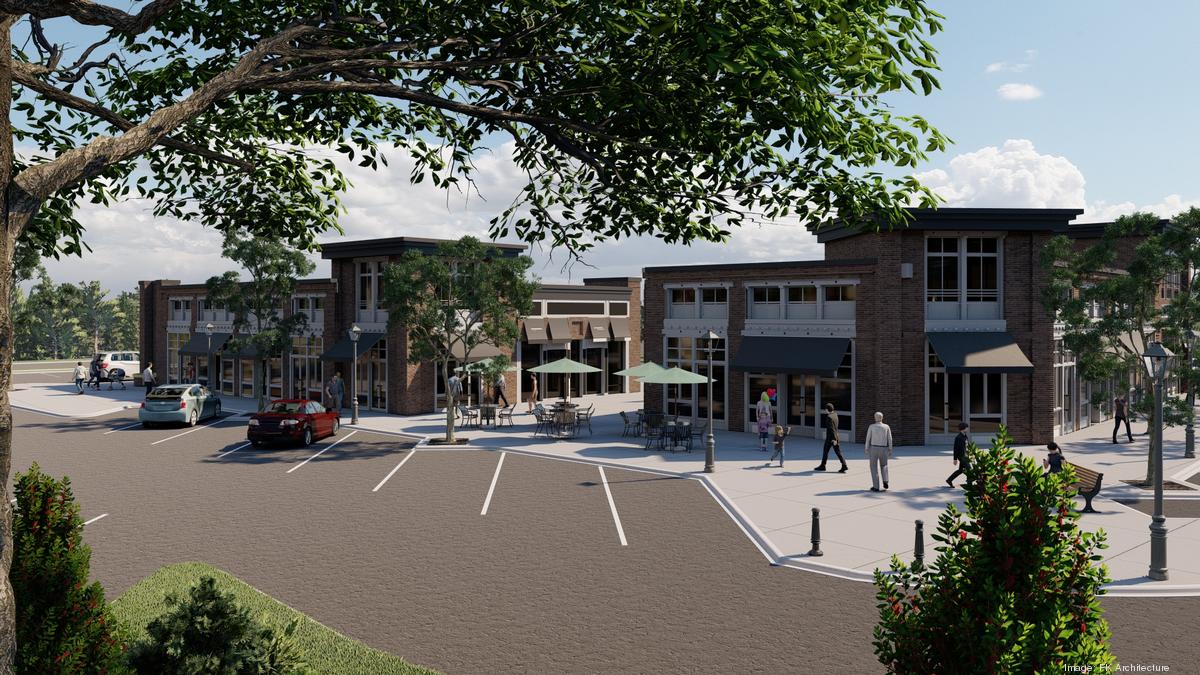 One of the gateways into Union Promenade.
FK ARCHITECTURE
When it comes to Union Promenade, Larry Solomon, Union's mayor said it best: "We've been hearing forever that if you want anything, you'll have to go to Florence to get it." Well, not anymore.
The city teamed up with developers T.J. Ackermann and Ralph Meierjohan on plans for the $150 million project. It will serve as a community hub thanks to 70,000 square feet for restaurant, retail and entertainment space, alongside 60,000 square feet of office or medical space.
Union Promenade will benefit not only existing Union residents, but will add to the community's urban density, with 300 high-end apartments and 50 for-sale patio homes. Union and the Boone County Planning Commission approved a zoning map amendment in November 2021. Developers have closed on two of three parcels and expect to purchase the final one in the first quarter 2022, with work commencing by the end of the first quarter. Most of the commercial lots are expected to be open by 2023.
National architect Bob Koch with Fugleberg Koch Architects was brought on to create the plan, with Viox and Viox as civil engineer and landscape architect. Gregel Group is coordinating and providing equity financing. – Andy Brownfield
(3) Mercy Health-Kings Mills Hospital
A birdseye view of the proposed new Mercy Health hospital in Mason. The facility will initially employ 175-200 full-time staff, before growing to more than 275 in total.
GBBN
Mercy Health-Kings Mills Hospital, a name unveiled at the groundbreaking in October, is considered a lynchpin development for both the ministry and community. City and county leaders said it will bookend Mason's Innovation Corridor and further its mission to lead in health and wellness. Mercy believes it also fills a void geographically. Its employee and patient base has significantly grown in the area.
It's also the first new hospital construction project in Cincinnati since 2014 when Mercy opened West Hospital in Green Township.
"Even though it's a younger, more affluent population, there are still health needs," Mercy Health-Cincinnati President Dave Fikse said.
The four-story, 60-bed facility will be anchored by a 15-bed emergency department. Mercy also will build a medical office building adjacent to the hospital and offer specialist care. There is opportunity for future campus expansion, Fikse said.
Construction is expected to take two years to complete, with opening projected for late 2023. GBBN is serving as the project architect, and Danis as the construction firm.
The facility is slated to bring 200 full-time jobs to Mason by 2024, the health system said, a count that could eventually grow to 275 shortly thereafter. – Liz Engel
(4) Dorothy Lane Market – $150M Mason development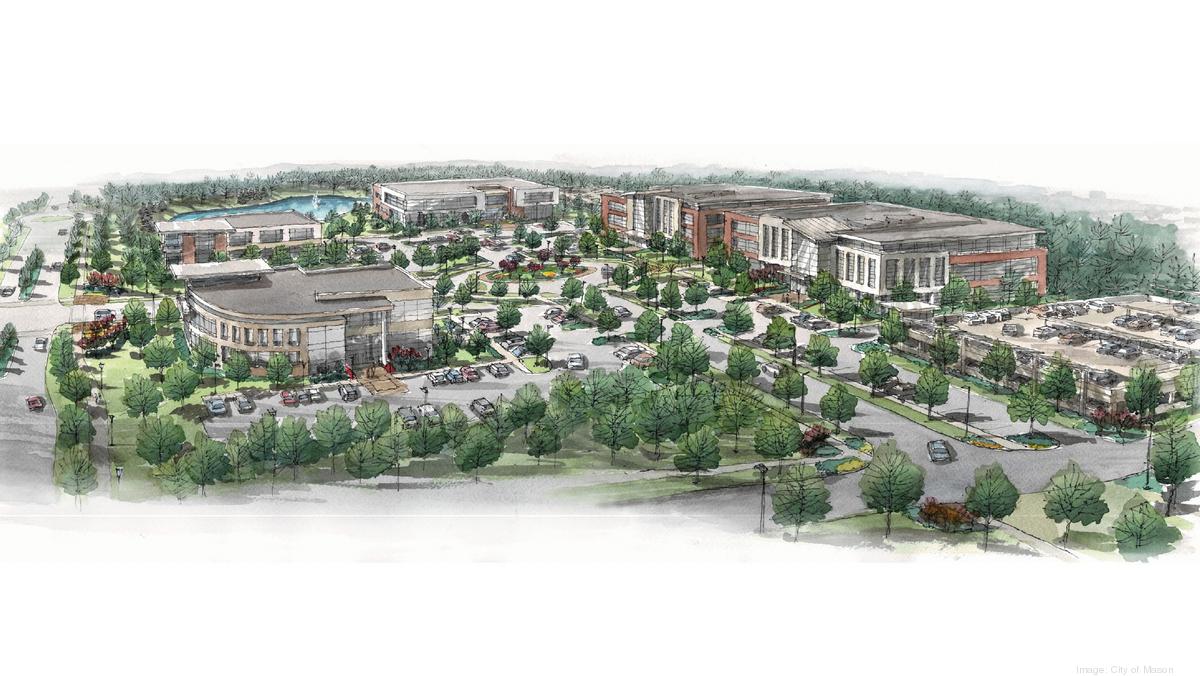 A conceptual rendering of the $150 million mixed-use development planned at the corner of Mason Montgomery and Western Row roads.
TRADITIONS BUILDING & DEVELOPMENT GROUP
Dorothy Lane Market, a Dayton-based high-end grocer, has been the apple of just about every retail developer's eye for years. Traditions Building & Development Group, along with its partner, Western Row Land Developers, is finally bringing DLM to the Greater Cincinnati market as the anchor in an as-yet unnamed project in Mason.
The 70-acre, $150 million development will include 80,000 square feet of specialty retail and restaurant space, a boutique hotel and about 120 residential units.
Tom Humes, president of Traditions Group, said the development centered around DLM "will create a unique and wonderful shopping experience for everybody in the Greater Cincinnati area, and particularly Mason."
After the project was announced in October, real estate agents said interest in existing homes near the property at the corner of Mason-Montgomery and Western Row roads, land that was formerly the Western Row Golf Course, increased.
The city of Mason is already thinking beyond the initial development. It purchased 27 acres of adjacent land with plans for a business park designed to attract companies in the tech and biohealth industries. This portion could generate about 800 jobs.
The project is expected to go before the city of Mason in January, with a goal of breaking ground on the grocery store and the first homes by 2022. – Tom Demeropolis
(5) SugarCreek Headquarters Campus

Sugarcreek plans to create an entire campus in Blue Ash along Indeco Drive and Indeco Court. The new headquarters will include an event center to be used for company meetings and charity events.
ESM ARCHITECTS
Sugarcreek Packing is investing up to $12 million to build a corporate headquarters campus in Blue Ash. The project includes five buildings. Springdale-based Sugarcreek plans to add 76 jobs and $10 million in payroll to its existing 48 jobs and $4.7 million payroll at its small corporate presence in Blue Ash.
"Our aggressive growth has pushed us over the $1 billion in (annual) sales milestone," said Ron Holbrook, a member of Sugarcreek's corporate affairs team.

"That growth brings the need for a true corporate headquarters with plenty of shared spaces to meet with our business partners and where our associates can collaborate."
The campus will include an event center that will host philanthropic events and meetings. Late 2022 is the current target for completion, although building material shortages and contractor availability could slow progress. The event center is expected to open by fall 2022.
"It will bring business visitors to the area daily, adding peripheral benefits to the local economy when they stay, dine and shop while in town," Holbrook said.
HGC Construction of Cincinnati is general contractor. Civil Solutions Associates is doing the site preparation, and BSI Engineering and ESM Architects are handling architectural work. – Steve Watkins

(6) Pendry Cincinnati at The Gwynne Building
602 Main St. Cincinnati
Interior demolition has started on the conversion of this historical office building, which once housed P&G's headquarters, into a 168-room, luxury hotel. The project will breathe new life into the area surrounding Main Street with an expected investment of $81.5 million.

(7) Carvana Service and Distribution Facility
5506 Kennel Road, Trenton
The online used car retailer is building a 200,000-square-foot facility where it will inspect, repair and store vehicles for customers who buy from its website Carvana expects to create 400 jobs at the $24 million facility.

(8) Ovation
101 W. Fourth St. Newport
The $1 billion development in Newport is buzzing with activity, as construction continues on an office building, a hotel and a parking garage that will serve as the podium for the first 88 for-sale residential units. In August, developer Corporex said it was investing $180 million at the site over the next 18 months.

(9) North Pointe
Imagination Boulevard, West Chester Dillin Development is working with to create about 500,000 square feet of commercial space, 870 multifamily units and a 140-room hotel. The site could see total private investment of $265 million.

(10) Delhi Town Square
5025 Delhi Pike, Delhi Township
Construction has begun on this $60 million project that will include 180 apartments, a recreation center with pool, the township's offices and cultural center, pre-K classrooms and an outdoor event space. The development will serve as a gathering point for Delhi Township.

(11) St. Bernard Square
4911 Vine St., St. Bernard
A joint venture between Regnum Capital Partners and Cincinnati-based Civitas Development Group has plans for a $32 million investment that will include about 200 apartments and up to 10,000 square feet of retail. Demolition is expected to begin in 2022.

(12) Tapestry Turfway Park
4787 Houston Road, Florence
The third local apartment project from Alabama-based Arlington Properties will add 320 apartments on 20 acres next to Turfway Park. The apartments will provide the missing residential link to the Houston Donaldson entertainment district.

(13) ILA Hyde Park Apartments
3660 Michigan Ave., Cincinnati
This luxury apartment project will add 51 units right along the Wasson Way bike trail in the heart of Hyde Park. Construction is underway and the apartments should be ready for residents by early 2023.

(14) Merchant Office Conversion to Apartments
134-144 Merchant St., Springdale
The trend of converting office buildings to apartments is moving from Cincinnati's core to the suburbs with this first-of-its-kind project. Vandercar Holdings, along with WP Land Co. and NorthPoint Group will transform 96,000 square feet of offices to apartments and add density with 97 new townhomes.

(15) Pitch Side Center
1550 Central Ave., Cincinnati
FC Cincinnati's ownership group envisioned the West End area surrounding TQL Stadium as a vibrant place where people can live, work and play. This planned conversion of the former Tri-State Whole Building Supplies property would be the first step. Construction will start once a major tenant signs on.

(16) Triversity Headquarters in Walnut Hills
921 Curtis St., Cincinnati
Black-owned commercial real estate
Firm Sanders Development Group is partnering with Terrex Development & Construction to build a new headquarters for TriVersity Construction Co., one of the region's largest general contractors. The project will bring even more life to a revitalizing Walnut Hills.

(17) The Hayden
303 Court St., Covington
A $31.4 million conversion of the Former Kenton County Administration Building to 133 apartments and 6,000 square feet of retail space, this project from Al Neyer and Urban Sites will add hundreds of residents to Covington's riverfront.

(18) WP Land Summit Park Homes
Parkview Drive, Blue Ash
Denser residential development is coming soon next to Blue Ash's Summit Park. W Land Co. LLC has purchased a portion of the land for the unnamed project, which will include three 36-unit condo buildings, 36 single-family attached units in 11 buildings and 36 single-family detached homes in the Parkview portion of the Neighborhoods at Summit Park.

(19) Trailside Village
5705 Harrison Ave., Cincinnati
Clete Benken and Ron Sweeney are planning a development unlike any other on the West Side. The project, which will cover 124 acres, will include 55 patio homes, 40 estate homes, and 93 village homes, as well as commercial space topped with apartments. The Green Township Bike and Walk Trail will cut through the property, which will retain 55 acres of green space.

(20) Cincinnati & Hamilton County Public Library's – Downtown
800 Vine St., Cincinnati
A major building improvement project is underway at the downtown branch to make the building and streetscape along Vine Street more active and inviting. The Vine Street entrance will be transformed, with all work to be finished by spring 2023.